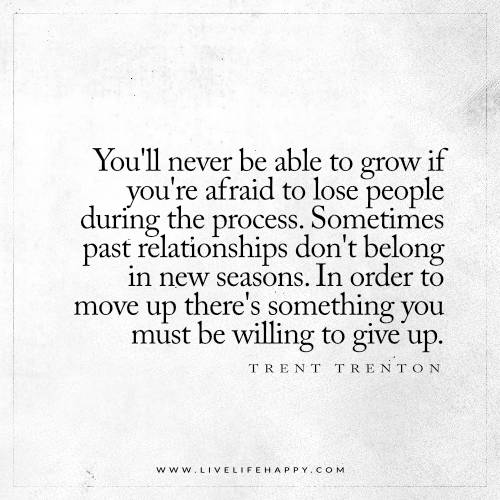 Growing is hard. It is hard work. It often exacts a hard toll on relationships. It is hard for many people to do because of the fear of losing people. It is hard for others to understand. Growing is hard.
When we begin to change who we are at our core, we find that the change begins to affect everything around us. How we see ourselves in our relationships with others is one of the first things to change. If these relationships have been contributing to our pain, or sadness, or anxiety, when we change we no longer want these relationships in our lives. Sometimes, these relationships are with people we are very close to – family and friends, even spouses/significant others and children. When we begin to value ourselves, we expect that others should value us as well. When they do not or are unable to, we move away from those relationships and it is very, very hard in many cases.
We may feel tremendous fear at these changes. We have lived in these ways with these people for many years. It is all we know. It provides a sort of dark comfort, but at least we know what it is. If we move away, change, we have to build new relationships, with many unknowns. That is very scary to us. The familiar is easier. Even if we repeat the same destructive relationship patterns over and over, it is familiar.
There is also the hardness of the love we do have for people in these relationships. That love is damaged, it is unhealthy, it is not helping us, but it is still what we know as love. We can share years with these people, share memories, share life experiences, we can feel obligated to stay in these relationships because they are our "family." But many times it is these relationships that further our damage, our negative self-image, our pain. It is very hard to let them go or change them to include boundaries that empower us to be happier, healthier, stronger.
Changing these relationships many times affects others around us and that is also hard. If it is a spouse or significant other who is the parent of your children or step-parent, removing them from your life also changes things for the children. We may stay in these relationships to avoid that very thing. But we continue to inflict our pain, sadness, negative self-image on our children, which in turn can damage them. Change is hard, but in the end it can be better for everyone involved.
Many people will start to make change, but when it becomes too hard or causes too much fear, they give up. If only they can push through that, they will find that the other side is brighter and better.
Growing is hard, but it is not impossible and you can do it.
Until next time,
Deborah
If you would like help to grow and change, I am accepting new clients (girls and women) for counseling. Call 406-413-9904 for a FREE initial consultation or email mindfulmontanawellness@gmail.com